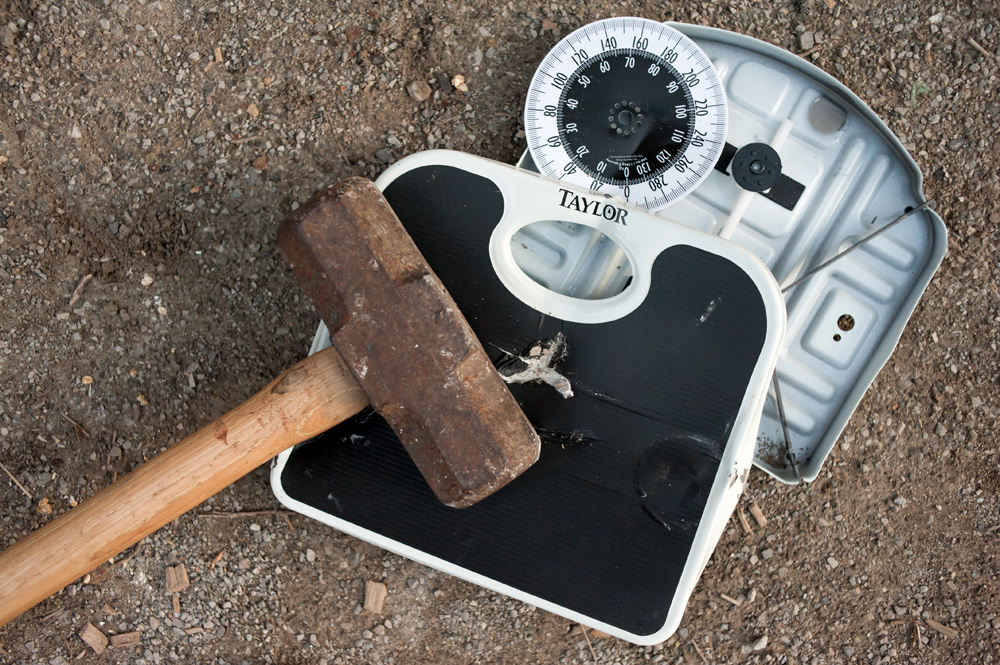 One of the first questions we ever get asked when we are starting our health journey, filling out paperwork, going to the doctor, etc. is "How much do you weigh?"
This is such a loaded question. Especially for women.
There is such a negative stigma on certain weights & there is so so much pressure for women to be a certain weight. We are constantly being reminded about it from our doctors, the media, our friends, our trainers, etc. Many of us have scales in our bathrooms that we step on on a daily basis.
One of the biggest challenges I give my clients at the beginning of our work together is to stop weighing themselves all the time. To get rid of the scale or better yet – smash it! Especially for those who are constantly focused on making sure that a certain number shows up on that scale every day.
There is way too much focus put on reaching a certain number that we really stress ourselves out. As we have talked about before, when we put ourselves into a stressed state, it can completely reverse any healthy habits you are working on.
When we are in a stressed state, our body produces extra hormones that store fat, our metabolism won't work correctly and we will end up storing weight, our blood pressure goes up, and so much more.
So, I challenge you to smash your scale and to stop using your weight as an indicator of whether or not you are being healthy. Instead of focusing on the number on the scale, start focusing on how your energy level is. Focus on what healthy habits you are adding into your daily routine. Focus on eating foods that you love and that your body will also love. Focus on moving your body. Focus on feeding your body with self-love and positive thoughts & energy.
If you aren't comfortable with getting rid of your scale, how about reducing the number of times you weigh yourself. And don't forget that when you are starting a journey to health, you will oftentimes gain weight at the beginning & you will fluctuate a lot along the way. So many things play into that number on the scale (gaining muscle, water retention, hormones). Don't be afraid to smash the scale & start measuring the facts that really matter.